Il 15 Gennaio 2012 al Beverly Hilton Hotel, nella bellissima California ha avuto luogo la 69esima edizione dei Golden Globe, presentata da Ricky Gervais che è un comico, sceneggiatore, regista e produttore televisivo britannico. Sul tappeto rosso hanno sfilato grandi star del cinema in abiti meravigliosi, (con tanto di strascico non troppo lungo ovviamente) e per la maggiore con il taglio a sirena ed ornate da cascate di gioielli, come la bellissima Angelina Jolie (che secondo me è veramente troppo magra!) che ha conquistato tutti con la sua strabiliante bellezza, in un long dress color perla, e con qualche tocco di rosso di Atelier Versace!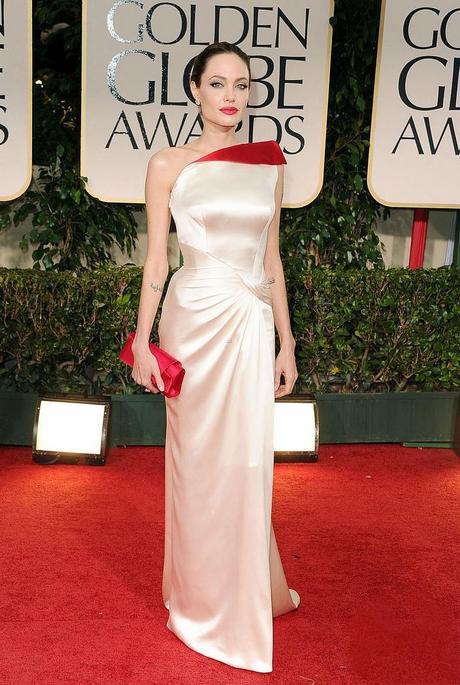 Non di meno era a mio parere Charlize Theron, che indossava un lungo abito rosa confetto di Dior Couture con un lungo strascico e corto sul davanti, che scopriva le sue bellissime gambe! Si merita assolutamente un bel 10 piùùùùùùù!
Molto elegante era anche Natalie Portman che indossava un abito senza spalline color rosa scuro di Lanvin, che credo la invecchiasse un po'!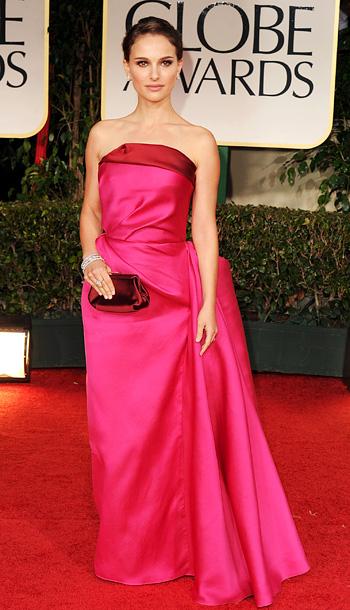 Totalmente diverso era invece l'abito di Evan Rachel Wood, firmato Gucci Prèmiere di varie tonalità di verde, ricoperto di piume di struzzo sulla gonna e di pailettes sul corpetto che mostrava una scollatura vertiginosa.
Ma il colore prevalente è si, è stato proprio il rosa confetto come dimostra la bellissima Heidi Klum, che indossava un classico long dress di Calvin Klein che le scopriva la schiena (ehhh beh, c'è chi può e chi non può), e come dimostra anche Kate Beckinsale in un bellissimo vestito dal taglio a sirena firmato Roberto Cavalli, ASSOLUTAMENTE MERAVIGLIOSA; ma non da meno, era però Jessica Alba anche lei con un long dress lilla ricamato con cristalli in dettaglio e firmato anch'esso Gucci Prèmiere!
Non molto bello invece era a mio parere l'abito di Nicole Kidman firmato Versace, poichè secondo me non le stava affatto bene perchè sicuramente la stringeva troppo, ed il color grigio data la sua pelle molto chiara non la metteva affatto in risalto! Ciao Nic, sei stata la prima eliminata!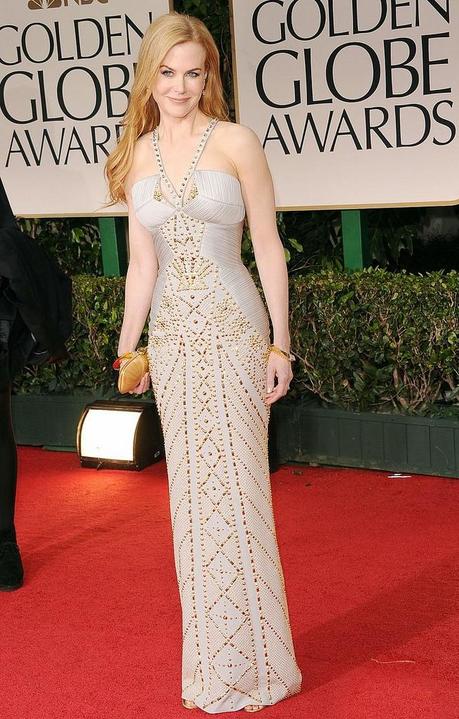 Ma DADADADAAAAAAN, non è finita qui, anche Gleen Close è stata bocciata, colpa del suo abito molto strano e troppo scuro, un'abito decisamente sbagliato anche se firmato Giorgio Armani, come pure Jessica Biel che indossava invece un'abito di pizzo anch'esso color rosa confetto, di Elie Saab, che proprio non le stava affatto bene, troppo pizzo, le maniche lunghe decisamente OUT, uno sbaglio imperdonabileeeeeeee :)
Speriamo solo che a i prossimi Golden Globes, non commettano più tali imperdonabili errori!
Alla prossima girls!
On January 15, 2012 at the Beverly Hilton Hotel, in beautiful California, took place the 69th Annual Golden Globe Awards, presented by Ricky Gervais who is a comedian, writer, director and a British producer television. O
n the red carpet marched big movie star in the wonderful clothes, (with a trailing not too long of course) with a mermaid cut and decorated with cascades of jewels, like the beautiful Angelina Jolie (who I think is really
too thin!) that has conquered all with her stunning beauty,and a pearl-colored long dress, with touches of red by Atelier Versace!
Nevertheless, in my opinion was Charlize Theron, who wore a gown by Dior Couture candy pink with a long train and short in front, he discovered her beautiful legs!
It is well worth a good 10!
Natalie Portman was also very elegant wearing a dark pink-colored strapless dress by Lanvin, which some believe to grow old '!
Totally different was the dress instead of Evan Rachel Wood, signed Gucci Premiere of various shades of green, covered with ostrich feathers on skirts and sequins on the bodice that showed a dizzying cleavage.
But the prevailing color is yes, it was the candy-pink as shown by the beautiful Heidi Klum, who wore a traditional long dress by Calvin Klein that discovered the back (ehhh well, there are those who can and who can not), and
as demonstrated Kate Beckinsale in a beautiful dress by Roberto Cavalli signed a mermaid cut, absolutely wonderful, but not least, Jessica Alba, with a long purple dress embroidered with crystals in detail and also signed Gucci Premiere!
But it was not very nice in my opinion the dress of Nicole Kidman by Versace, because in my opinion was not at all well because surely too tight, and the gray on his skin did not put it all very clear feature, soooo
Hello Nic, you were the first eliminated!
But, there's more, even Glenn Close was rejected, because of his gown very strange and very dark, very wrong, even if signed secon Giorgio Armani, and Jessica Biel wearing lace instead of a secon too '
it is colored pink, Elie Saab, that just was not at all well, too much lace, long sleeves definitely OUT !
We only hope that the upcoming Golden Globes, no longer commit such unpardonable mistakes!
next time

girls

!